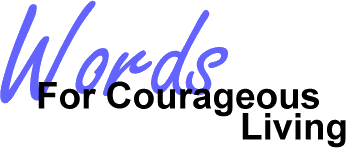 November 18th
Prayers for Difficult Times
We live in a very sick world, don't we? Today, the human race groans because of Adam and Eve's sin. We can't escape that. What is the difficulty through which you are now going? Whatever it is, let me remind you the cause. Do I know? Yes.
Our area of difficulty, for which we need words of encouragement is caused by one of three things. 1) What we did (by that I mean the results of wrong choices, or acts committed by us. 2) Satan (He is always out to deceive, kill and destroy) or 3) the deliberate acts done TO us by individuals.
In it all, and through it all one thing I have encouraged countless individuals to do is to PRAY SCRIPTURE. Let me give you an example. It is what my wife, Nancy, gave a group just this morning (as per my original typing)
P R A Y E R S T O P R A Y
taken from the scriptures
Lord God, I cry out to you. My spirit grows faint within me; my heart within me is dismayed. ( Psalm 143:4 )
Answer me when I call to you, Oh my righteous God. Give me relief from my distress; be merciful to me and hear my prayer. (Psalm 4:1)
God, you will give me the treasures of darkness, riches stored in secret places, so that I may know that you are the Lord, the God of Israel, who summons me by name. (Isa. 45:3) You want me to discover the riches of relationship with you that will set me free from this place.
Hope does not disappoint me, because you, God, have poured out your love into my heart by the Holy Spirit, whom you have given me. (Romans 5:5)
You, Christ, were despised and rejected by men, a man of sorrows, and familiar with suffering. You were like one from whom men hide their faces. You were despised, and we did not esteem you. (Isa. 53:3) You know exactly how I feel, Lord. I will put my trust in you.
Lord, according to your Word, the light shines in the darkness, but the darkness has not understood it. (John 1:5) Help me to understand that, because I am yours, light is shining in my darkness whether I can behold it or understand it.
Your eyes, Lord, are on those who fear you, on those whose hope is in your unfailing love, to deliver them from death and keep them alive in famine. I wait in hope for you, Lord; you are my help and my shield. In you my heart rejoices, for I trust in your holy name. May your unfailing love rest upon me, Oh Lord, even as I put my hope in you. (Psalm 18:22)
When I hope in you, Lord, I will renew my strength. I will soar on wings like eagles; I will run and not grow weary, I will walk and not be faith. (Isa. 40:31)
Lord, you are the God of hope. Fill me with all joy and peace as I trust in you, so that I may overflow with hope by the power of the Holy Spirit. (Romans 15:13)
Shout for joy, O heavens; rejoice, O earth; burst into songs, O mountains! for the Lord comforts his people and will have compassion on his afflicted ones. (Isa. 49:13)
The scriptures speak for themselves.
My payer:
Lord encourage this on line reader to print out these scriptures and make them apart of their day when "things" are not going the way they like. Your word never returns void and I am confident that hearts will be made lighter and days will be brighter even through a difficult time. How better can we get, Lord, than YOUR WORDS for courageous living. In the name of Jesus.
Amen
---
Look Up Another Day